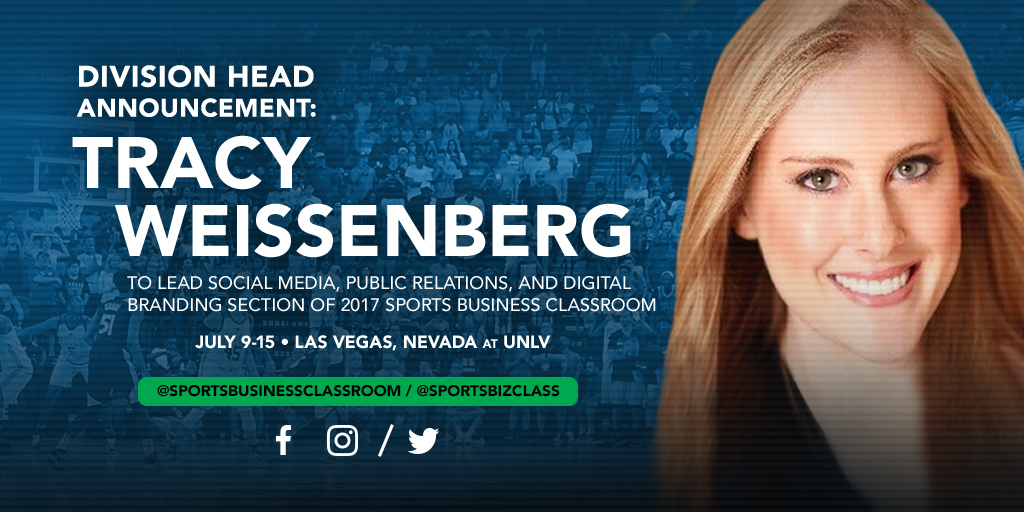 Sports Business Classroom is excited to announce that award-winning social media strategist Tracy Weissenberg will be leading the Social Media, Public Relations and Digital Branding major at the 2017 Sports Business Classroom (SBC) in Las Vegas. This major is one of four being offered in 2017 as part of the Business of Basketball program.
As the Division Head of this major, Weissenberg will be responsible for creating the curriculum and giving lectures on the subject as well as developing interactive experiences and training exercises centered around Summer League.
The curriculum will be designed to explore the many facets of social and digital media, including content production, developing a voice, marketing, broadcast integrations, new technology, different platforms and overall strategy. It will take an in-depth look at an ever-changing digital landscape and how social media is the new frontier of interaction, content and monetization. The curriculum will include speakers across the industry, insight from influencers on personal brand building, creative brainstorming sessions and on-site, interactive training.
"I have always believed in social media's ability to serve as a vehicle for original content and perspectives," says Tracy Weissenberg. "It shows that content produced for one medium never has to stay exclusive to that space. The life cycle and message should be continuous and connective. One of my favorite aspects of social media is that it has an extension in nearly every facet of a business. It is instant in reception, critical to authenticity and unlimited in potential. As soon as we begin to tap into different models and platforms, the landscape quickly changes. That dynamic quality is what makes it so exciting."
A featured speaker at the 2016 Sports Business Classroom, Weissenberg was part of an all-star lineup of sports business executives that were teachers and presenters, including NBA Commissioner Adam Silver, Washington Wizards Head Coach Scott Brooks, the Vertical's Adrian Wojnarowski, Houston Rockets GM Daryl Morey, Ned Cohen of the Philadelphia 76ers, Toronto Raptors GM Masai Ujiri and the Vegas Summer League's very own Warren LeGarie.
SBC Speaker Bio: Tracy Weissenberg – Social & Digital Media Consultant
Tracy Weissenberg is an award-winning social strategist and content producer as well as an experienced digital marketer. She spent eight years at Turner Sports, most recently building and leading both creative and editorial content strategy for social media. She also worked across departments to collaborate and fully integrate social within the business.
Tracy has worked major tentpole events including the NBA Finals, NBA Summer League, NBA All-Star, Basketball Hall of Fame, March Madness Final Four and the PGA Championship. She has creative directed campaigns, collaborated with influencers in and outside of professional basketball and worked closely with social platforms on major activations.
Tracy is currently a social and digital media consultant, working with brands and influencers to shape marketing, social, content and digital strategies.
She attended Emory University in Atlanta, Georgia.
About the Sports Business Classroom
Taking place at the Thomas & Mack Center and Cox Pavilion in Las Vegas, NV., the Sports Business Classroom consists of two immersive educational programs that will give both aspiring and seasoned basketball professionals from around the world the opportunity to learn from top sports executives in a one-of-a-kind training environment.
The program will give attendees the opportunity to train and interact with top executives while performing real work in the following disciplines: scouting, video, and analytics; social media, public relations and digital branding; TV, online and broadcast; and the league salary cap.