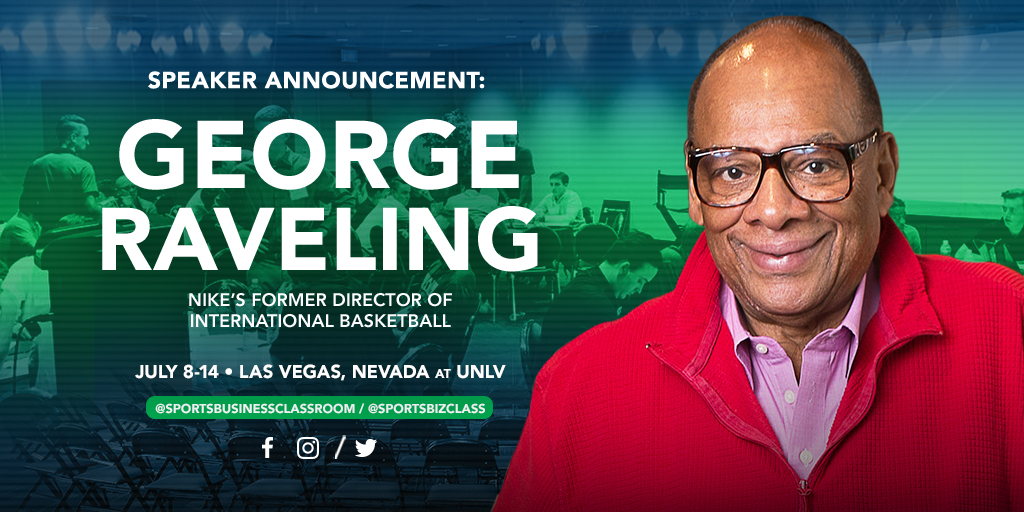 Sports Business Classroom is proud to announce that George H. Raveling, former Director for International Basketball at Nike, will be a featured speaker at the 2018 Sports Business Classroom (SBC) in Las Vegas.
As a featured speaker at the 2018 Sports Business Classroom, Raveling will be part of an all-star lineup of sports business executives that are teachers and presenters. Previous years at SBC have featured NBA Commissioner Adam Silver, Washington Wizards Head Coach Scott Brooks, ESPN's Adrian Wojnarowski, Houston Rockets GM Daryl Morey, Ned Cohen of the Philadelphia 76ers, Toronto Raptors GM Masai Ujiri, and the Vegas Summer League's very own Warren LeGarie.
SBC Speaker Bio: George H. Raveling – Former Director for International Basketball – Nike
George H. Raveling is a pioneer in transcending the intersections of sports, culture, race and business. At 80 years of age, George has a multitude of incredible life experiences and counts some of the most successful and brilliant people in the world amongst his closest friends. He remains an avid reader and passionate life learner who commits every day to inspiring and empowering others to uncover the outer depths of who they are.
Referred to by many as "Coach", George is Nike's former Director of International Basketball. He is a husband, a father, a friend, and a mentor to many. In 1960, Raveling graduated from Villanova University with a Bachelor of Science degree in Economics and a fruitful collegiate basketball playing career in the record books. In 1964, George would return to basketball as an assistant coach at his alma mater. He would go on to become a world-class educator and coach with head coaching jobs at Washington State, the University of Iowa and USC. Following a prolific basketball coaching career, he would spend brief stints as a color commentator for Fox Sports and CBS, before being presented with an opportunity of a lifetime to join Nike, Inc.
Coach Raveling's Official Website: www.coachgeorgeraveling.com
About Sports Business Classroom
Immersed in the Las Vegas Summer League, Sports Business Classroom 2018 will play host to two training and educational programs: The Business of Basketball and The Executive Session focused on the league salary cap.
Designed for those looking to break into the sports business world, the six-day Business of Basketball program will give attendees the opportunity to learn from and interact with top executives while performing real exercises in scouting, video, analytics, social media, digital branding, broadcasting, and the league salary cap.
Designed for league and team personnel, agents and accredited media, the Executive Session will provide a deep dive and advanced analysis focused on the league salary cap. Participants in the Business of Basketball program who are majoring in the league salary cap will learn shoulder-to-shoulder with industry personnel enrolled in the Executive Session.