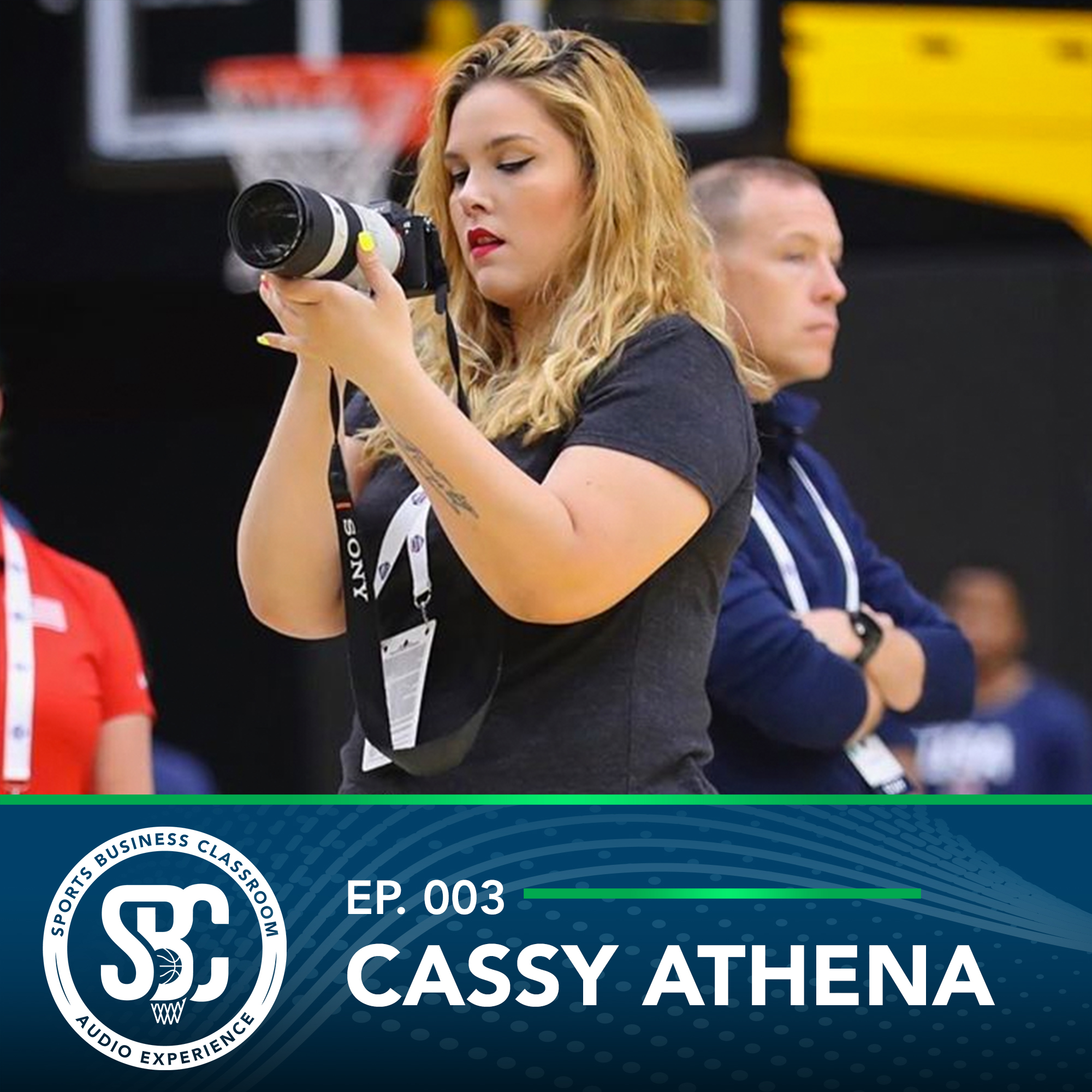 HOW SHE BECAME YOUR FAVORITE NBA PLAYER'S FAVORITE PHOTOGRAPHER WITH CASSY ATHENA (EP. 003):
In today's episode we sat down with your favorite NBA players favorite photographer, Cassy Athena.
In this episode we will talk about:
How she turned her passion into her career in the world of basketball
The importance of building genuine relationships to stand out & how to maintain them
How social media shaped her business which has led to some of the biggest stars reposting her pictures
Talks about how she found her purpose by building her brand
Cassy's daily grind and what it takes to make it in the industry
Cassy Athena is a professional NBA photographer and entrepreneur, & has overcome some pretty remarkable things along the way. Her work has been published in Sports Illustrated, Samsung, Billboard, Red Bull, Fox Sports, Dime Magazine, Slam Magazine, NBA, Under Armour, Nike, Jordan Brand, Monster Headphones & more. She has worked exclusively with the biggest NBA athletes & has helped with branding/marketing to many athletes and entertainers. It wasn't only LeBron James, who drew nearly two million likes on Instagram for balling out at Chris Brickley's basketball runs in New York City; Cassy Athena was there, like always, capturing the magic. She even followed Steph Curry & his family at the 2016 NBA Star Game in Toronto for Under Armour.
Connect with Cassy Athena and follow her journey: Instagram | Twitter | LinkedIn | Website
Connect with Sergio Millas on: LinkedIn | Instagram | Twitter
SHOW NOTES
Cassy's background of photography and sports (2:22)
How Cassy got her foot in the door by photographing basketball games at CSUN (3:48)
Cassy on the importance of relationships and how to go about developing them (6:37)
How did Cassy develop the skill of being social and talking to new people? (10:08)
Advice Cassy's mom gave Cassy to be more open and outgoing (11:51)
Cassy's traumatic brain injury in college (13:35)
At what point did Cassy realize photography was her life passion? (18:11)
Cassy on how every person has to work hard and grind to be successful (23:06)
A day in the life of Cassy Athena (24:18)
How does Cassy decide what jobs she wants to do to maximize her schedule? (28:02)
Cassy on trying to replicate an athlete's work ethic (31:14)
Cassy's advice for professionals who want to break into the sports industry (33:52)
What are some resources for people who want to develop photography skills? (38:06)
Cassy on how her technical skills combined with having good relationships help capture a great photo (41:36)
Should photographers take pictures in high volume all the time? (44:10)
Cassy on her current role with Getty Images and other roles she has (47:25)
What's next in life for Cassy Athena? (52:30)
Obstacles Cassy has to overcome in her job (55:30)
Who's the first person Cassy thinks of when she hears the word "success"? (59:15)
If you could send an email to everyone who wants to break into sports what would it say? (1:00:02)