File:Bam Adebayo.jpg: Joe Glorioso derivative work: Shakeydeal33 / CC BY-SA-2.0
How Bam Adebayo Can Take the Next Step by Watching Anthony Davis
By: Daniel Lubofsky
Anthony Davis has been a superstar throughout these playoffs, leading the Los Angeles Lakers in scoring with 29.1 points per game on 56.7 percent shooting. A large part of his dominance comes in the areas many teams are shying away from in 2020. AD is shooting a ridiculous 49.2 percent on 2-pointers outside the restricted area, showcasing his unprecedented size and touch with contested looks he makes routine.
Having that shot in the arsenal is crucial to the success of the Lakers' offense. Whether it's cutting through the lane or receiving the ball off a trapped pick-and-roll, similar looks will consistently be open, but the window to take it before defenses converge only lasts so long.
Bam Adebayo often finds himself in a similar situation. The Miami Heat execute more handoffs than any other team in the league. With snipers like Tyler Herro and Duncan Robinson often trapped off the catch, Bam has typically shoveled the ball at the free-throw line with no defender insight and the ability to make a play.
Passing tends to be the big man's preference, and it's a worthy first thought with over five assists per game during the regular season. The next step in Bams' game will be putting the ball in the basket himself, taking advantage of looks defenses happily concede to a man assisted on more than 75.0 percent of his field goals.

Adebayo's jumper looks functional but remains a work in progress, having made just 21 of 94 attempts during the regular season. With time and more of that famous #HeatCulture, Adebayo should begin making shots like the one he missed below to kick off Game 1 of the Finals.
The shot was lightly contested and could come to be a part of his offensive arsenal when attempting to create space against seven-foot matchups, but Adebayo could be doing even more in this situation against Kentavious Caldwell-Pope. Despite having made the proper rotation off Goran Dragic from the weakside corner, KCP is hardly a stout interior defender. Yet Bam bails out the Laker guard by fading away from the basket.
LeBron James does an adequate job splitting the difference between Dragic and Jimmy Butler on the right-wing, making it difficult for Adebayo to swing the ball to either teammate. With a defender only 6'5'' in his way, Adebayo should need no more than a single dribble to pound his way for an easier shot closer to the rim, just as Davis' evolved skill-set allows him to do.
Rare is the big man who can facilitate like Adebayo, pacing the Heat in total passes and assists in these playoffs through Game 1 of the Finals. That unique trait alone has proven valuable enough for a Heat team that's overcome the No. 1 and 3 seeds in the Eastern Conference en route to the NBA Finals.
Adebayo has risen to All-Star status based on how he helps others, the hub of an offense that receives explosive scoring from unpredictable sources. Bam Adebayo is a special talent. To further evolve, he should look no further than the star big man he stood across from during these NBA Finals.
ABOUT THE AUTHOR DANIEL LUBOFSKY: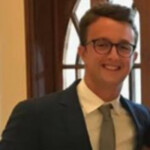 Daniel
is a soon-to-be college graduate based in New York aspiring to get his foot in the sports media door. He's developed several years of experience in editing, writing, and analyzing with a growing passion for film study and podcasting.
Daniel
took part in the Sports Business Classroom's virtual conference in 2020.