Offseason Preview for the Celtics and Nuggets
By: Makar Gevorkian
The Celtics and Nuggets both suffered a tough loss in their respective Conference Finals, but both should be optimistic moving forward. The Celtics performed as expected but just ran into a Heat team that was clicking on all cylinders. The Nuggets, on the other hand, overcame all odds twice and legitimized their place amongst the Western Conference elite.
Without delving into much detail, the Celtics struggles against the Heat stemmed from their shot selection (in the games where the Celtics won, they did a good job of making sure to get shots at the rim – 32+% of the time – but only shot it at the rim ~25% of the time in their losses) while the Nuggets struggled to contain ball screens, Anthony Davis, and struggled to stay out of foul trouble. However, as both enter an important offseason, don't expect many noteworthy offseason transactions due to their cap constraints.
Denver Nuggets
Although the Western Conference will be even deeper next season, the Nuggets are the fifth-youngest team in the league with their franchise cornerstones both being younger than 25. The Nuggets anticipate Michael Porter Jr. and Bol Bol to take the next step in their progression as both flashed the potential to be serious contributors moving forward.
Even if they renounce every free agent and waive their non-guaranteed players, the Nuggets will enter free agency operating over the cap. Ownership will likely push to stay under the Tax Line. Taking their projected cap holds into account they'll enter free agency close to $60 million over the Tax Line (roughly $54 million above the apron, if relevant) but could quickly get under after taking into account their decisions with Paul Millsap, Mason Plumlee and their trade exceptions.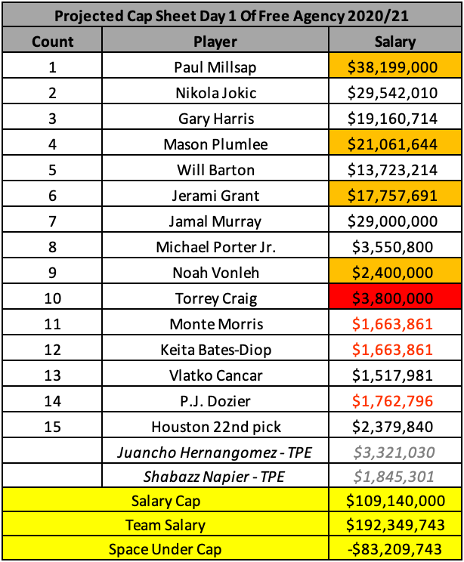 Priority Signings
The NuggeTs top free-agent priority should be to retain Jerami Grant (PO). Grant had an exceptional post-season flashing his versatility and ability to finish at the rim. Although Grant has a player option and is expected to opt-out, the Nuggets hold his Bird Rights and can give him a considerable raise. Even in a free agent market dearth of available money, Grant will at least command the full non-taxpayer mid-level ($9.258 million), but likely will command an average annual salary around $12-15 million.
Since Nuggets will be over the cap anyway, they likely will extend Craig a qualifying offer and keep Plumlee, Millsap, and Vonleh's cap holds (at minimum, to use as sign-and-trade assets) but it ultimately wouldn't be a surprise if only one of those players is on the roster next season (with the order of priority likely being Plumlee, Craig, Millsap, then Vonleh), meaning that many of their younger players will play a larger role next season. Bol Bol is on a two-way contract but likely will be a part of the active roster moving forward.
Expected Depth Chart Entering Free Agency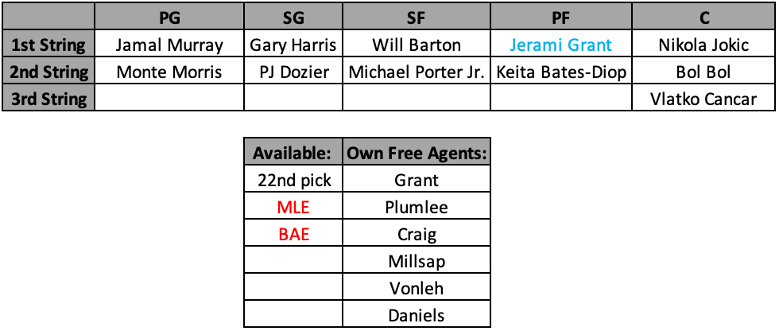 Roster Upgrades
Given the desire to stay under the Tax Line, their best options to upgrade their roster outside of their own free agents will be via the mid-level exception, the bi-annual exception, or via trade. Their most obvious area of need is to address defensive versatility in order to better minimize Jokic's struggles on the defensive end, especially against pick-and-roll oriented offenses.
Boston Celtics
The Celtics on the other hand won't have any flexibility with their cap space – they likely will enter the season over the Tax Line. The biggest concern for the Celtics is that this will be their second season in the last three years paying the tax.[6] With Jayson Tatum being extension eligible this offseason, they're slowly approaching the Repeater Tax territory.[7]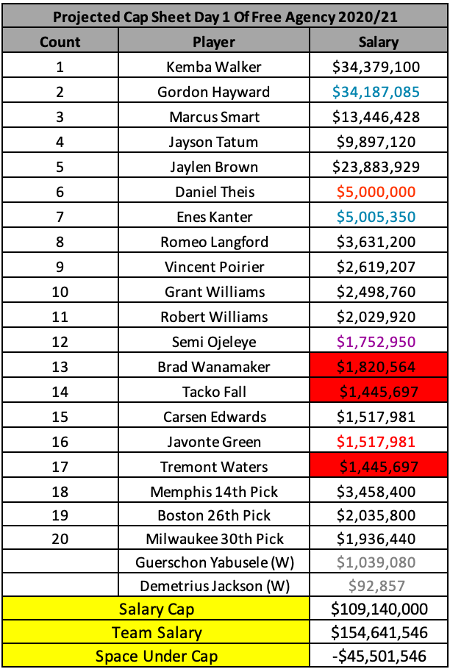 Priority Signings
With Gordon Hayward expected to opt into his player option, the biggest decisions the Celtics will face will be related to Semi Ojeleye's team option and whether to extend Tacko Fall, Tremont Waters, and Brad Wanamaker qualifying offers.[8] It's unclear what Kanter will do with his player option and he has had his role reduced in Brad Stevens' system with the emergence of Daniel Theis, Robert Williams, and Grant Williams, but in an offseason saturated with centers, he'd best be suited to opt-in or work out a deal with the Celtics using his Non-Bird Rights (120% of his previous season's salary).
Expected Depth Chart Entering Free Agency

Roster Upgrades
Barring any major trade, the Celtics core rotation will be largely the same next season. The most realistic option to upgrade their roster will come via trade using any of their three first-round picks. Like most seasons in recent memory, the Celtics have an accumulation of assets but won't have space for all of their picks – they may combine their picks to move up in the draft, trade a pick for a draft asset next year, or combine their picks plus salary to trade for a player. The Celtics also will have the taxpayer mid-level exception ($5.7 million) available and Brooklyn's second-round pick.
CITATIONS:
[1] Restricted free-agent cap hold / unrestricted free-agent cap hold / non-guarantee
[2] It's unclear what the NBA will do with Trade Exceptions tied to specific dates given the pandemic but given the desire to stay under the tax, the Nuggets likely will renounce them.
[3] The chart and analysis throughout assume a flat $109.14 salary cap number for 2020/21.
[4] Although Grant has a player option, the chart assumes that he will opt-out.
[5] Free agents prioritized in order.
[6] They paid the tax last in the 2018-19 season.
[7] Player option / team option / restricted free-agent cap hold / dead money
[8] Brad Wanamaker, Tremont Waters, and Tacko Fall will be Gilbert Arenas' "provision" free agents: http://www.cbafaq.com/salarycap.htm#Q43. The provision will be irrelevant for them because their market should be well below the Arenas Provision max.
KEY TERMS TO KNOW:
Non-Bird Rights – A player who has spent a single season or less with his team, as long as he finishes the season on an NBA roster.
Bird Rights – A player who has spent three seasons with a team without clearing waivers or changing teams via free agency. Except in limited circumstances, receiving teams will retain a player's Bird Rights in a trade.
Mid-Level Exception – Mid-Level Exceptions provide teams different avenues to sign free agents. Teams below the salary cap are entitled to the Room Mid-Level Exception. Teams above the salary cap are entitled to the Non-Taxpayer Mid-Level Exception. Teams above the Apron are entitled to the Taxpayer Mid-Level Exception.
Tax Line – Teams are required to pay a tax for every dollar over the Tax Line they end up. The Tax Line is entirely dependent on what the NBA sets the
Repeater Tax – Teams that end the season above the tax line in three out of the four last seasons are required to pay the Repeater Tax. The Repeater Tax imposes higher penalties
"Gilbert Arenas" Provision – Players with one or two years of service entering free agency are subject to the "Gilbert Arenas" Provision. "Gilbert Arenas" Provision free agents are restricted free agents and their first-year salary is limited to the Non-Taxpayer Mid-Level Exception. Raises for each season are as follows: 5%, first year max salary, and 4.5%.
Apron – Also known as the "Hard Cap." Teams that use any of the non-taxpayer mid-level exception, the bi-annual exception, or acquire a player via sign-and-trade are not allowed to be above the Apron.
ABOUT THE AUTHOR MAKAR GEVORKIAN: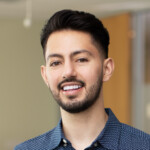 Makar is a corporate lawyer based in Los Angeles aspiring to work in basketball. He's developed a passion for all things related to roster construction, the NBA salary cap, and the Collective Bargaining Agreement.
Makar was a Sports Business Classroom Business of Basketball Virtual Conference standout in 2020.