Creating Thunder in The Building
By: Lawrence Brooks
It's no secret the OKC front office has an eye for talent. Whether it's by draft or trade, their roster always seems to have guys that can play. Of course, Kevin Durant is a no-brainer (although he is forever a Seattle SuperSonic in my eyes). But OKC has Serge Ibaka on their resume, along with Steven Adam, and more notable guys like James Harden and Russell Westbrook. Clearly, an abundance of talent has thrown on an OKC Thunder jersey. They've now started the clock over and reeled in a bevy of young talent to build a new future. One of the key ingredients to the new core is forward Darius Bazley.
Darius Bazley might be more known for his $1M internship with New Balance than basketball. However, let's not forget he was the 13th ranked player in the 2019 class. He decommitted from Syracuse and had plans of playing in the G-league. Ultimately, he bypassed that opportunity and took the million-dollar internship. Following the internship, he was drafted by Utah but then traded to Memphis before landing in OKC via trade. He's a talented young player flying under the radar of OKC's youth movement. Speaking of youth movement, keep in mind OKC isn't flooded with primetime games like year's past. They're now in a total rebuild and learning on the fly. This means losses are on the menu for them more times than not at the moment.
Beneath the lessons and losses, there's Darius averaging 13pts/9reb/1bpg this season. He's had three double-doubles so far through 7 games this season showing his talent and impact. As a 6'8 forward he is able to stretch the floor which is clear by his average of almost 2 threes a game. DB is also a decent ball-handler for his size with playmaking and shot-making ability. But at slightly over 210lbs, he has an impressive ability to rebound and finish in traffic. His skill set also allows him to grab a rebound off the glass and ignite fastbreaks which immediately makes them a more up-tempo team. The shooting ability combined with above average athleticism and perimeter versatility makes him very updated for today's game. He seems to be building off his promising playoff bubble run as a reserve and showing positive development as a starter this year. OKC may have found a gem.
About the Author Lawrence Brooks: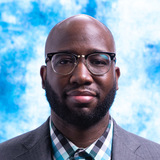 Lawrence Brooks is a Seattleite now residing in Los Angeles. LB is an avid basketball watcher and aspiring basketball analyst. Breaking down players, the game, and roster construction is his favorite exercise.