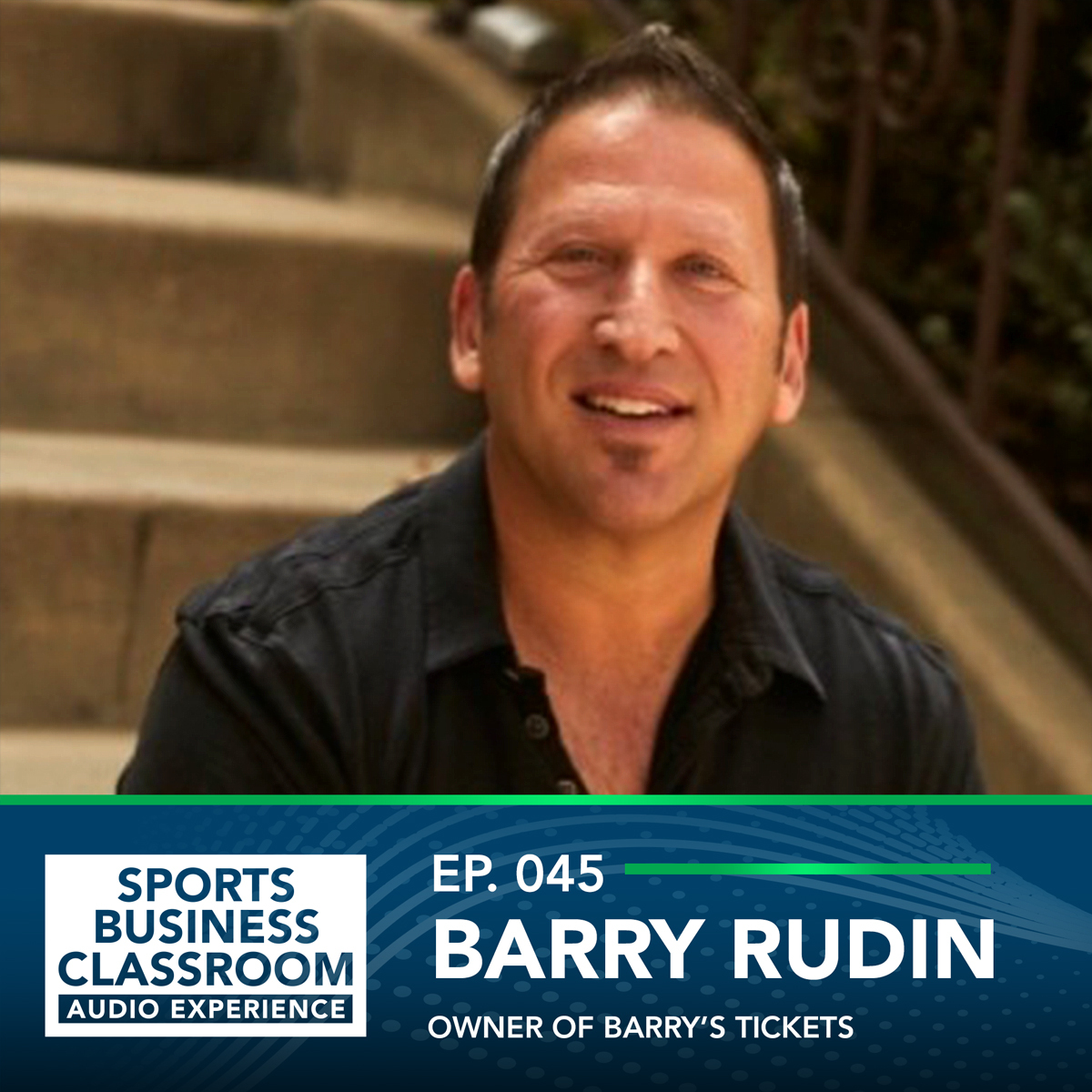 A TICKET TO THE FUTURE OF LIVE SPORTS WITH BARRY RUDIN – (EP. 45)
In today's episode of the Sports Business Classroom, we sat down with the owner of BarrysTickets.com, Barry Rudin. Barry's Ticket Service is one of the largest ticket brokerage firms in the United States. For over 35 years, Rudin has been an industry innovator, successfully expanding and evolving with the times. He has always maintained a strong position at the forefront of the ticket industry. From official partnerships with several professional sports franchises to foreseeing technological necessities, Rudin's business savvy, and vision have always placed him among the leaders in the business. With his continued focus and enthusiasm, Barry's Ticket Service will maintain its position as an industry leader through an unprecedented period without live events.

In this episode we discuss:
How hard the live sporting event/concert business was hit by COVID
How he plans to come back as a business after the pandemic
The outlook for the live events business in the future
The public's enthusiasm to return to arenas and sports venues

The owner of Barry's Tickets, Rudin has been Southern California's top broker for decades. He started his business in high school, in the early '80s, operating out of his parents' home in the San Fernando Valley, and he continued as an undergrad at USC, acquiring and dropping off tickets between classes. He then made a small fortune brokering tickets at the 1984 Summer Olympics. Since then he has been the front, center, and courtside in the ticketing game. So much so, that while his business is mostly run online, he still has his own office in the Luxe Hotel on Figueroa, a block away from Staples Center.
Connect with Beau Estes: Twitter
Connect with Barry Rudin: LinkedIn | Twitter | Instagram
SHOW NOTES
How Barry got started in the ticket business (4:40)

What is it exactly that Barry's Tickets does? (11:30)

Barry talks about what happened in March of 2020 and what his responsibilities consisted of (13:00)

What did Barry think of and come up with during quarantine that will benefit his company? (25:00)

What indications and how optimistic is Barry for when live events resume? (28:27)

How are events handled when they are postponed and/or canceled? (30:35)

What challenges is Barry expecting promoters, event coordinators and operators to face? (31:55)

The best live event Barry has attended (39:50)

How will Barry's company handle the Vaccine Passport? (41:15)

What Technologies is Barry currently using with his company? (42:53)

How tough was it to sit still this past year in quarantine? (43:48)

What keeps Barry motivated during the pandemic? (46:50)
LINKS