David Aldridge, Reporter, TNT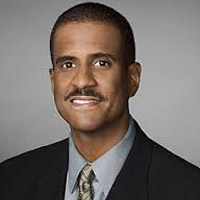 David Aldridge is a graduate of American University and has worked as a writer for The Washington Post, where he spent nine years. During that time Aldridge was a beat writer covering Georgetown University basketball, the Washington Bullets and the Washington Redskins. He also covered the 1992 Summer Olympics in Barcelona, NBA and NFL, the Stanley Cup playoffs, the World Series, the Indianapolis 500 and the U.S. Open tennis championships.
He has worked both in studio and as a sideline reporter for TNT.
Before joining TNT in 2004, Aldridge reported on the NBA for eight years for ESPN and wrote for ESPN.com. He was very popular with viewers for his thoughtful commentary and comprehensive analysis.
Aldridge currently works as the "Insider" for TNT's Inside the NBA and as a commentator on other NBA TNT features.
He also covers the National Football League and National Basketball Association as a reporter and columnist for The Philadelphia Inquirer.