J.B. Bernstein, CEO, Access Group of Miami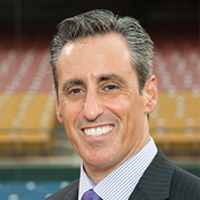 As a 25+ year veteran of the packaged goods and sports marketing industries, Mr. Bernstein is widely respected for his creative problem solving and positive results. As the CMO of Seven Figures Management, a sports marketing and athlete representation firm, Bernstein created The Million Dollar Arm™ (www.TheMillionDollarArm.com) contest in India which yielded the first 2 Indian men to ever sign pro sports contracts in the US. His story is now the subject of a Disney motion picture that will be released in 2014. The contest became an official MLB International program in 2011. As the co-founder and President of the Access Group of Miami (www.AccessGroupOfMiami.com) in 1993, his agency has represented some of the greatest athletes of all time including Barry Bonds, Barry Sanders, & Emmitt Smith. Bernstein was responsible for creating ground breaking programs Like Smith's Run With History™ which is now the standard deal in NFL milestone marketing. He also orchestrated Barry Bonds' departure from MLBPA group licensing, making him the first baseball player to successfully operate outside of their auspices.
Bernstein's services were retained by MLS from 1995 – 97 to act as their head of licensing and to create the league's and the players' entire merchandise program. He secured over 50 partners and reached levels of licensed goods sales in 1997 of nearly $50MM.
Bernstein got his start in sports during the formation of The Upper Deck Company and as the director of Development for the memorabilia division, he developed over 250 products and is widely known as one of the godfathers of milestone marketing for his work on Wayne Gretzky's 802nd goal program and Dan Marino's all time TD record.
Bernstein started his career in brand management at P&G and as an account executive at Grey Advertising.
Mr. Bernstein received his bachelor's degree in political economics from the University of Massachusetts Amherst, and then went on to achieve his MBA from The London School of Economics. Out of his personal interest, Mr. Bernstein has separately achieved a Ph.D. in Physics from the University of Southern California and is currently pursuing his 2nd Ph.D. a related field.
Bernstein lives in Las Vegas with his wife and daughter. J.B. spends any free time he gets keeping up on developments in the field of Physics/Cosmology, and is an avid science reader.