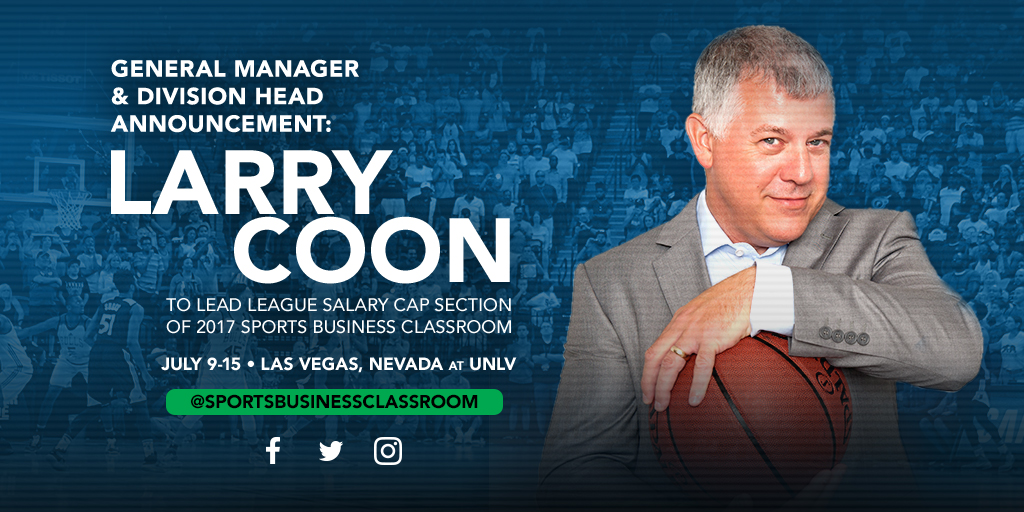 Sports Business Classroom is excited to announce that Salary Cap expert Larry Coon will be leading the Business of Basketball program and Executive Session at Sports Business Classroom (SBC) 2017 in Las Vegas. In this role he is also serving as the program lead for the League Salary Cap major. This major is one of four being offered in 2017 as part of the general session, while the Executive Session is a more intensive Deep Dive into the League Salary Cap available only to league/team personnel, agents, and accredited media.
As the General Manager for Sports Business Classroom, Coon will oversee the entire program, including developing the curriculum, recruiting program leads, instructors and guest speakers, admitting applicants into the program, and serving as host and lead instructor.
As the program lead for the League Salary Cap major Coon will be responsible for developing and teaching the content, including General Education lectures, practicum and deep dive material, as well developing interactive experiences and training exercises surrounding the Summer League.
The curriculum will give students an in-depth look at the intricacies of the league salary cap, including important changes in the new 2017 CBA. Students will also learn why knowledge of the salary cap is necessary for working in a front office, and receive hands-on experience designed to serve them in their career in sports moving forward.
"It's a seminar; it's an educational experience; it's immersion; if you're interested in working in sports, and especially in basketball, then this is the place to be," Coon said on the Dunc'd On Podcast with Nate Duncan.
A featured speaker at the 2016 Sports Business Classroom, Coon was a part of an all-star lineup of sports business executives that were teachers and presenters, including NBA Commissioner Adam Silver, Washington Wizards Head Coach Scott Brooks, the Vertical's Adrian Wojnarowski, Houston Rockets GM Daryl Morey, Ned Cohen of the Philadelphia 76ers, Toronto Raptors GM Masai Ujiri and the Vegas Summer League's very own Warren LeGarie.
SBC Speaker Bio: Larry Coon – General Manager
Larry Coon is a computer scientist by both education and trade, and works in Information Technology management at University of California, Irvine. He has also taught university Computer Science courses, specializing in database theory.
Larry has been profiled in the New York Times, Los Angeles Times, Orange County Register and Sports Illustrated. He makes regular media appearances including television (such as ESPN's "Outside the Lines") radio and podcasts. He is a regular contributor to ESPN.com and to BasketballInsiders.com. He is often quoted and cited, both online and in print, by local and national media venues. He has also contributed to the New York Times Off the Dribble blog, HoopsWorld.com and RealGM.com.
In July 2011 Sports Illustrated named Coon to their inaugural Twitter 100, which lists the 100 most essential people in the sports world to follow on Twitter.
Larry Coon
About the Sports Business Classroom
Taking place during the Las Vegas Summer League, Sports Business Classroom 2017 will play host to two immersive training and educational programs: The Business of Basketball and The Executive Session focused on the league salary cap.
Designed for those looking to break into the sports business world, the six-day Business of Basketball program will give attendees the opportunity to train and interact with top executives while performing real exercises in the following disciplines: scouting, video, and analytics; social media, public relations and digital branding; TV, online and broadcast; and the league salary cap.