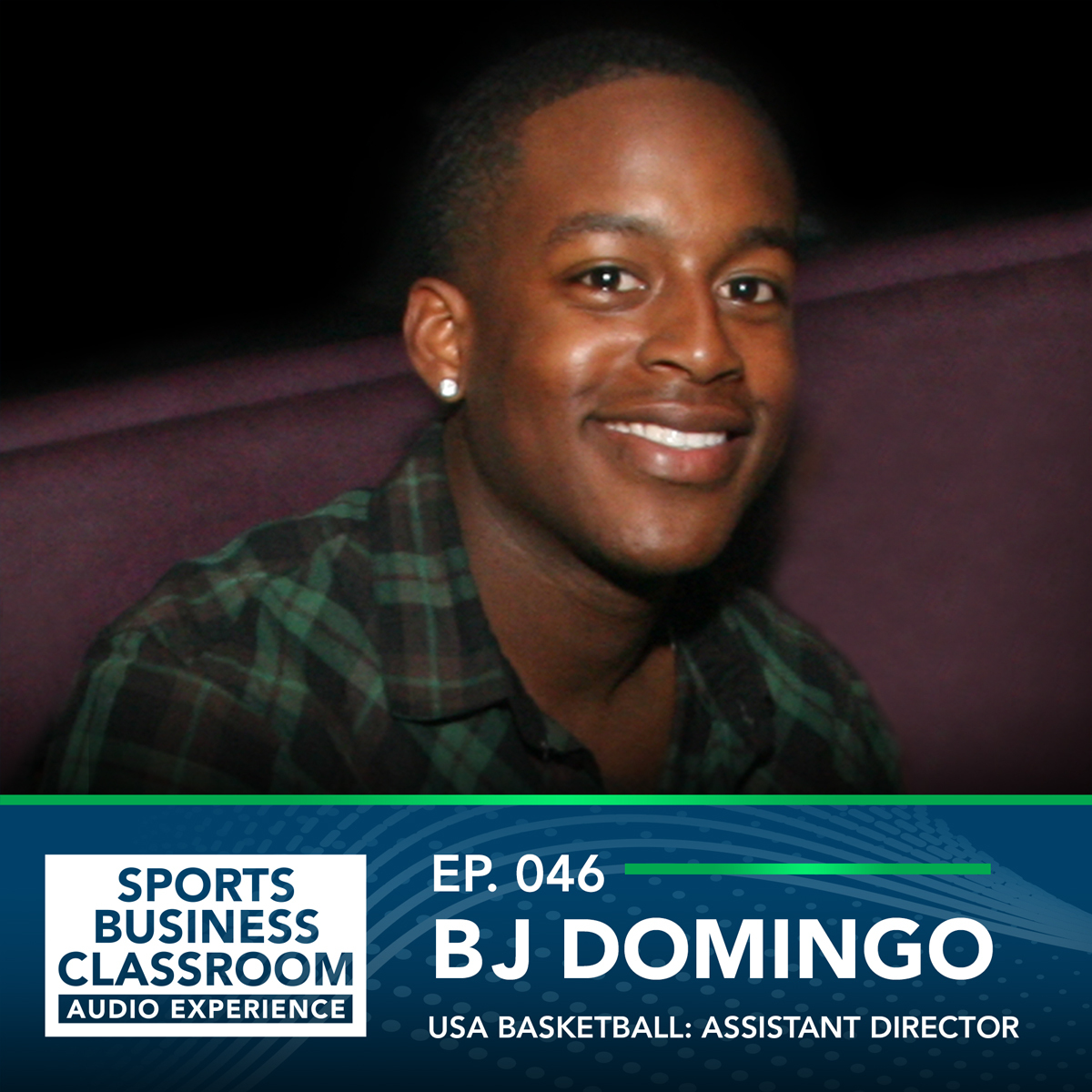 WORKING TOWARDS YOUR DREAMS WITH BJ DOMINGO (EP. 46)
In today's episode of the Sports Business Classroom Audio Experience, we sat down with the Assistant Director of the USA Basketball Men's National Team, BJ Domingo. In his role with the men's program, Domingo assists Team USA in all facets, but his primary focus will be on the Men's Junior National Team. In his role, he will coordinate the participation of athletes and staff for the men's junior team minicamps and international competitions, as well as assisting in the implementation of the health and wellness and life skills components.
In this episode we discuss:
How BJ fell in love with the game of basketball

BJ's responsibilities as Assistant Director for USA basketball

Developing and trusting your own process as a scout

What BJ has learned from his past career experiences

How a season progresses for a scout as an NBA team points toward the draft
Domingo earned a bachelor's degree in business administration from San Jose State University in May 2013, and recently he worked in the Milwaukee Bucks front office as a scout, a position he began in 2017 and held until being hired at USA Basketball. Domingo also served as a basketball operations associate from 2015-17 and a player relations intern in 2014-2015 for the Bucks. Before that, he was a video intern for the Golden State Warriors in 2013-14. During his summers BJ was a HallPass Media staff member coordinating operations for Adidas Nations for five summers (2011-15); an intern for the NBA Summer League from 2008-15; an attraction manager for the NBA All-Star Weekend in 2011 in Los Angeles; and an administrative assistant for Warren LeGarie Sports Management in 2008.
Connect with Beau Estes: Twitter
SHOW NOTES
When and how did BJ fall in love with basketball (4:30)

BJ's high school and college sports life (6:05)

BJ's responsibilities as the assistant director for USA basketball (7:15)

The process of going through a draft with an NBA team(10:40)

What was his favorite memory when working for the Bucks and what did he learn from the job (12:17)

BJ takes listeners through the scouting process at a game(14:20)

Does each scout have a unique style or eye? (17:50)

How does BJ improve his own work? (19:04)

What are the steps that BJ recommends for young people wanting to follow in his career footsteps? (23:10)

The process of the film room (25:50)

are there players that BJ has drafted in the past where he feels proud for making the right decision(29:50)

Are there players that BJ has missed on and if so what has he learned from that experience(33:20)

What technologies does BJ use to succeed in his job (34:29)

Good book suggestions (35:19)