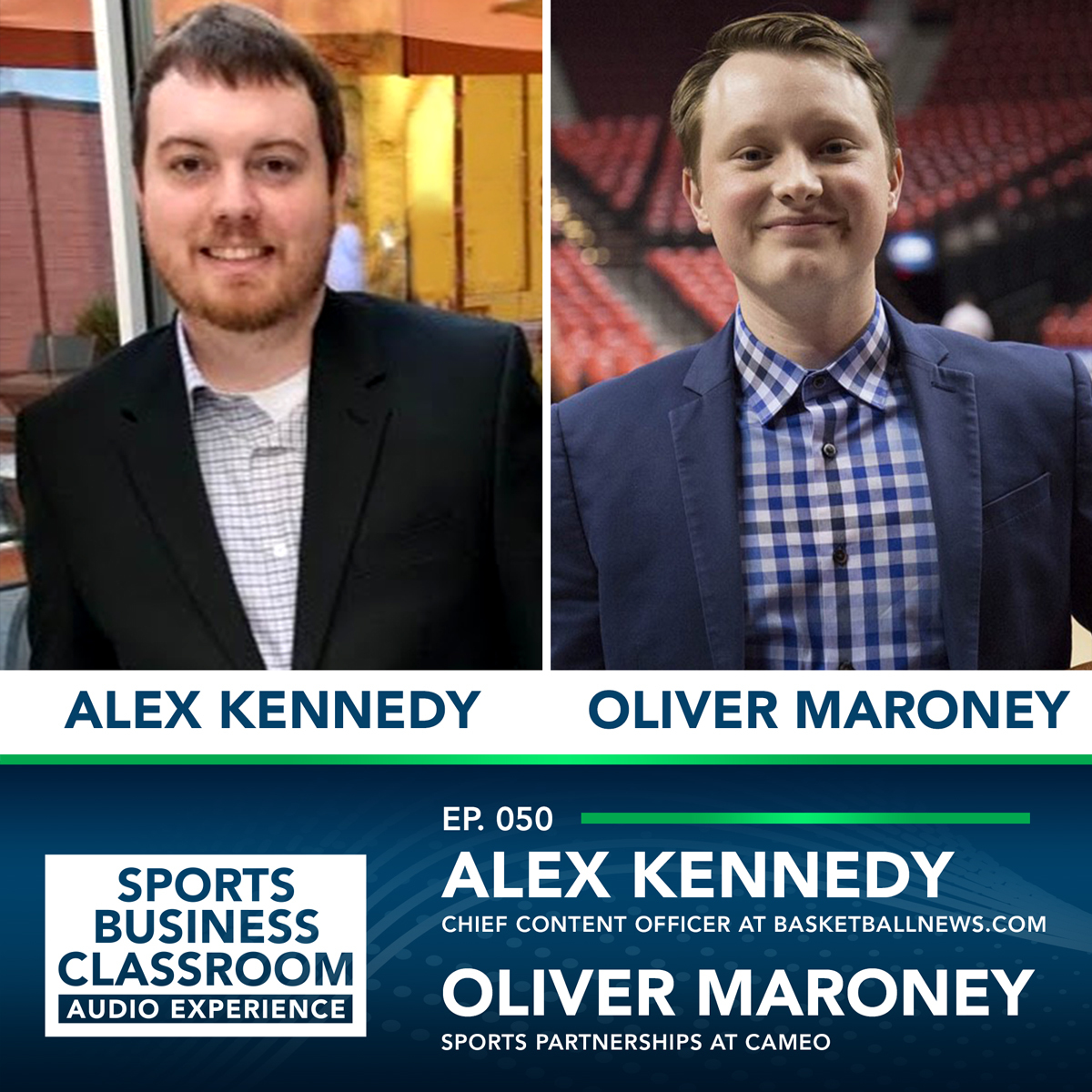 THE LEADING VOICES IN THE NBA TOP SHOT COMMUNITY (EP. 50)
In today's episode of the Sports Business Classroom Audio Experience, we sat down with Alex Kennedy and Oliver Maroney, the hosts of the NBA Top Shot Weekly Podcast. Alex Kennedy is an NBA writer and the Chief Content Officer at BasketballNews.com. Alex also previously worked at HoopsHype as an editor. Oliver Maroney currently works in Talent Relations Sports at Cameo. Oliver previously worked at BIG3 as a Content and Media strategist, as well as a senior writer at Dime Magazine and Basketball Insiders. Both hosts have very successful careers in NBA media and are now leading voices in the NBA Top Shot community.
In this episode we discuss:
Basic understanding of NBA Top Shots

Oliver and Alex explained which moments are hot and why

What the future of this product looks like
In this episode, Alex and Oliver answer all the basic questions so anyone can gain an understanding of NBA Top Shot. NBA Top Shot lets you build a collection featuring all the players you love, including the elite rookies, the role players that made your favorite team tick, and the players you can't get enough of. Alex and Oliver are early adopters of NBA Top Shot and are now leading voices in the Top Shot community. They provide an easy and user-friendly onramp into the world of NBA Top Shot.
Connect with Beau Estes: Twitter
Connect with Alex Kennedy: Instagram | Twitter
SHOW NOTES
What is NBA Top Shot? (3:57)

How did Alex get involved? (7:00)

What is the question that Alex & Oliver get the most (5:11)

How can someone gain an understanding of the new technology (8:50)

Is this a potential avenue for the NBA? (18:50)

Why are serial numbers so important & what gives them value (22:20)

Is there a good strategy to get people involved if they are beginners (24:50)

What does a badge mean (25:46)

Who is the Top Shot community and what can one learn from it? (29:55)

What is an NFT (32:00)

What has been NBA Top Shot's biggest sales to date (34:00)

What is the short-term and medium-term outlook for this market? (35:00)

Is there a way to go back and check if an NBA moment has already been made an NFT (39:50)

Do Alex and Oliver see a future of Top Shot for other sports (41:11)

What is in store for NBA Top Shop Weekly (33:25)

Where can people go to find more info to learn and read about Top Shot (46:55)

What are some things that can make adapting to NBA Top Shot easier? (49:40)