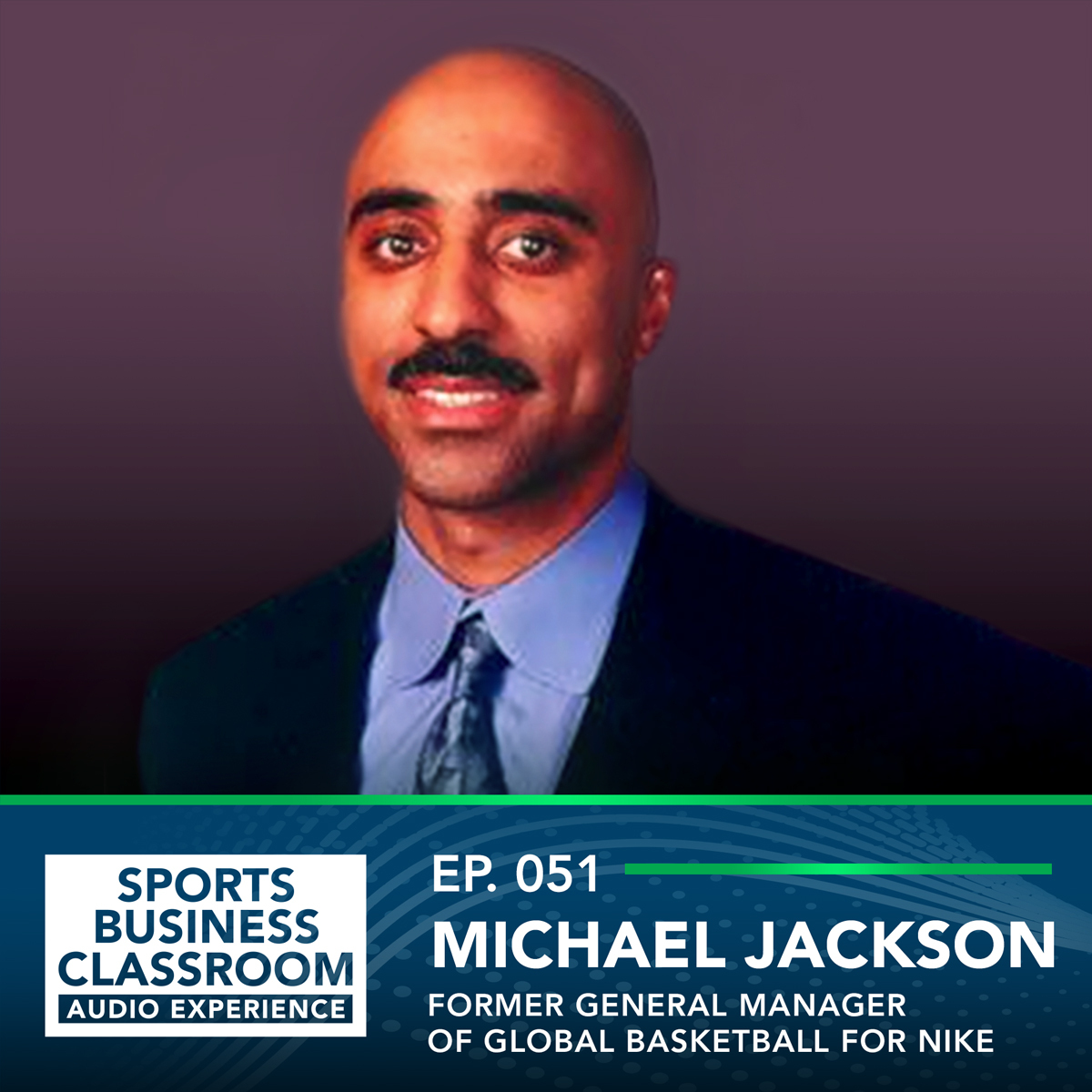 MICHAEL JACKSON'S BASKETBALL LIFE WITH MICHAEL JACKSON (EP. 51)
In today's episode of the Sports Business Classroom Audio Experience, we sat down with Michael Jackson, a former American professional basketball player who played in three NBA seasons for the Sacramento Kings from 1987 to 1990. He was a 6'2″ guard from Georgetown University and was a member of the 1984 Hoyas team that won the Division I National Championship in 1985 and returned to the Final Four the following year.
In this episode we discuss:
Michael's college basketball career

The transition from a pro ball player to NBA Coach

How MJ contributed to Turner Sports

Challenges and experiences when working with pro ballers like Kobe Bryant and LeBron James
Following his college career, Jackson was selected by the New York Knicks in the second round (47th pick overall) of the 1986 NBA draft. In his NBA career, Jackson played in 89 games, scored a total of 188 points, and had 198 assists. He led the Kings in assists in a number of games in the 1987–88 season. MJ was a member of Georgetown's 1984 National Championship team. After graduating with a degree in sociology in 1986, he was accepted to the Kennedy School of Government at Harvard. Upon retirement, Jackson assumed management positions with the United States Olympic Committee and Turner Sports and served as the president of Yankees–Nets, currently known as YES Network. He has worked in a number of executive positions at Nike, Inc, including vice president and general manager of global basketball from 2014 to 2016.
Connect with Beau Estes: Twitter
SHOW NOTES
How much did MJ enjoy watching Georgetown win the tournament? (4:20)

Has MJ noticed that it is hard for a big man to score a coaching position? (6:20)

What are MJ's memories of his experiences from leading George Town to being National Champions in 1984? (8:00)

Did MJ feel any pressure to win a National Title because his coach was so close to winning before? (10:20)

How did Coach Thompson impact MJ's life (12:35)

What were MJ's plans after being accepted into college? (23:42)

MJ talks about when he decided he wanted to play pro ball (32:00)

Why did MJ only play 3 years at Sacramento? (39:27)

When MJ decided on his career path (44:15)

How MJ planned to put Turner Sports together (50:40)

What it is like for MJ to sit back in a Thursday night and watch Turner Sports years later (57:32)

What were the challenges of switching to the shoe industry? (1:00:45)

What were some of the challenges and experiences when working with Kobe Bryant and LeBron James? (1:03:31)

The Chinese market (1:05:30)

What it was like to work with Kobe Bryant (1:06:55)

What advice does MJ have for people who want to succeed in a leadership role? (1:10:45)

Where did MJ's confidence come from? (1:14:00)