Quin Snyder, Head Coach, Utah Jazz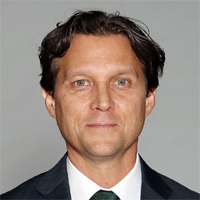 Quin Snyder enters his second season as head coach of the Utah Jazz, after guiding Utah to a 38-44 record during the 2014-15 campaign.
On June 7, 2014, Snyder was named the eighth head coach in Jazz history and the fifth since the franchise's relocation to Utah in 1979. Snyder possesses a diverse coaching background that spans more than two decades in the NBA, Europe, the NBA Development League and college, including 10 years of experience as a head coach.
From 2007-10, Snyder served as the first head coach of the San Antonio Spurs-owned/operated Austin Toros of the NBA Development League, where he recorded a 94-56 (.627) mark, while leading the club to playoff appearances in all three seasons and advancing to at least the NBA D-League Semifinals each year. In the role, Snyder worked closely with the Spurs coaching staff and front office. During his three-year tenure in Austin, he compiled more wins and guided more players to the NBA than any other coach in the NBA D-League.
His first head coaching position came at the University of Missouri. Snyder was named Rookie Coach of the Year by the Basketball Times after his first season. In seven seasons (1999-2006), he led the Tigers to a 126-91 (.580) record and four NCAA Tournaments, including an Elite Eight appearance in 2002.
Snyder most recently completed his first season as the lead assistant coach for the Atlanta Hawks in 2013-14 under Mike Budenholzer, helping the Hawks to a 2014 playoff appearance. He has also served as the associate head coach with CSKA Moscow (2012-13) for Ettore Messina, advancing to the 2013 Euroleague Final Four, and worked as an assistant coach with the Los Angeles Lakers in 2011-12 under Mike Brown, and as an assistant on Doug Collin's staff with the Philadelphia 76ers in 2010-11, helping both teams to the NBA Playoffs. Prior to being hired as head coach at Missouri, Snyder served as associate head coach to Mike Krzyzewski at Duke from 1993-99, and as an assistant for Larry Brown with the 1992-93 Los Angeles Clippers.
Born in Mercer Island, Wash., Snyder was a two-time Washington player of the year and a McDonald's AllAmerican. He played collegiately at Duke (1985-89), appearing in 136 games for the Blue Devils and reaching three Final Fours. He was elected as a team captain and honored as an Academic All-American during his senior season. Snyder earned undergraduate degrees in both philosophy and political science from Duke, later earning a Juris Doctor and M.B.A. from Duke as well. Snyder and his wife Amy have two daughters, Anika and Madeleine, and a son, Wyatt. He is also the proud father of son Owen.