Rick Carlisle, Head Coach, Dallas Mavericks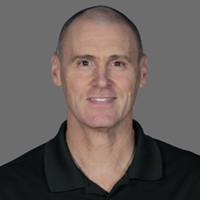 Rick Carlisle enters his sixth season as the head coach of the Dallas Mavericks. In 11 seasons as a head coach, Carlisle holds an all-time record of 520-366 (.587), including a mark of 239-155 (.607) with the Mavericks. Carlisle recorded his 500th career win against Portland on Feb. 6, 2013, becoming the 28th coach in NBA history to reach the milestone.
Carlisle led his team to the playoffs nine times in his first 10 seasons as a head coach. He guided the Mavericks to their first-ever world championship in 2011, becoming one of only 11 individuals to win an NBA championship as both a player and as a head coach (he won a title as a player with Boston in 1986).
Carlisle became the ninth coach in franchise history on May 9, 2008. He joined the Mavericks after spending six seasons, with Detroit and Indiana, as a head coach. During the 2007-08 season, Carlisle served as an ESPN studio analyst. Carlisle began his head coaching career with Detroit in 2001-02. During his two-season tenure, the Pistons won 61 percent of their games (100-64) to go with two Central Division championships and one trip to the Eastern Conference Finals. Following his first season as head coach in 2002, Carlisle earned the NBA's Coach of the Year award.
Carlisle joined Indiana as head coach on Sept. 2, 2003. In his first season, Carlisle led the Pacers to the NBA's best record (61-21), the most victories in franchise history, the best winning percentage in franchise history (.744) and a Central Division championship. He also led the Pacers to the 2004 Eastern Conference Finals where they eventually lost to the Pistons. Carlisle, including his previous two seasons with Detroit, became the first coach since Pat Riley to win 50 games and division championships in each of his first three seasons as head coach.
The following season, the Pacers roster was overrun by injuries (Jermaine O'Neal and Jamaal Tinsley) and suspensions (due to the Nov. 19, 2004 brawl between Indiana and Detroit at the Palace of Auburn Hills). Despite losing over 200 man games that season, Carlisle rallied the Pacers to the NBA Playoffs. As the sixth seed, they defeated the Atlantic Division Champion Boston Celtics in the first round, before bowing out to eventual Eastern Conference Champion Detroit in the conference semifinals.
Overall, Carlisle earned a 181-147 (.552) regular season record in Indiana and led the team to three consecutive postseason appearances before stepping down following the 2006-07 campaign.
Carlisle began his coaching career in 1989 as an assistant with the New Jersey Nets. In five seasons with the Nets, he had the opportunity to work under Hall of Fame coaching legends Bill Fitch and Chuck Daly. Carlisle then moved on to Portland, where he spent three seasons as an assistant under P.J. Carlesimo before joining former teammate Larry Bird's staff in Indiana during the summer of 1997.
In 1984, Carlisle began his NBA career as the only rookie to make the Boston Celtics roster. He played three seasons in Boston and enjoyed his best year as a pro when he averaged 9.9 minutes in 77 games for the 1986 World Champions. He then played one year with the New York Knicks under Head Coach Rick Pitino before moving on to New Jersey, where he played briefly for Fitch before being offered an assistant coaching position with the franchise.
Collegiately, Carlisle played two years at the University of Maine before transferring to the University of Virginia, where he was co-captain of the Cavaliers' 1984 Final Four team.
A native of Ogdensburg, N.Y., he graduated in 1984 with a B.A. in psychology from Virginia.
Carlisle, and his wife, Donna, have a daughter, Abby. Carlisle enjoys golf, piano and spending time with his family, which includes two dogs, Moe Norman and Zoe.