Sage Steele, NBA on ESPN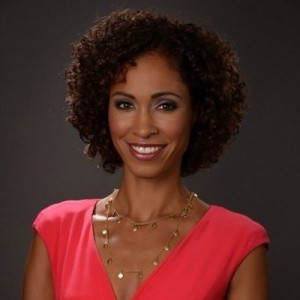 Sage Steele is one of ESPN's most versatile on-air personalities, currently serving as the host of the Friday and Sunday editions of NBA Countdown – ABC's and ESPN's NBA pre-game show.
Steele, who joined ESPN in 2007, has served as a co-host of ESPN's 1-3 p.m. ET SportsCenter, the network's flagship news and information program and, in her new role, will continue to contribute to the show.
Additionally, Steele serves as on-site host of the daytime SportsCenter segments from the NBA Finals where she also presents post final-game interviews. She has also hosted the Scripps National Spelling Bee each year since 2010.
At ESPN, Steele has also served as weekend morning SportsCenter anchor, update host during live daytime SportsCenter editions, contributed to First Take and Mike & Mike in the Morning, and been guest co-host of ESPN2's SportsNation.
Prior to the 2013 NASCAR Sprint Cup Series Brickyard 400, the Indiana University graduate had the honor of driving the pace car at the famed Indianapolis Motor Speedway.
Steele began her television career at WSBT-TV in South Bend, Ind., as a producer and reporter (1995-1997). She then moved to WISH-TV in Indianapolis where she was the beat reporter for the Indianapolis Colts, in addition to covering the 1997 NCAA Men's Final Four, NASCAR and the Izod IndyCar Series.
In August 1998, Steele moved to Tampa and worked as a reporter, anchor, and host for WFTS-TV. She was the beat reporter for the Tampa Bay Buccaneers from 1998-2001 and covered the 1999 NCAA Men's Final Four. In 2000, she joined Fox Sports Net in Tampa as a reporter and covered Super Bowl XXXV for the 2000-01 NFL season.
In April 2001, Steele became the anchor for the debut of Comcast SportsNet, serving the Washington DC/Baltimore region. She anchored the flagship show SportsNite for six years and was also a beat reporter for the Baltimore Ravens from 2001-2005, hosting a magazine show for all five seasons.
Steele graduated from IU (Bloomington) in 1995 with a Bachelor of Science degree in sports communications. In her spare time, Steele volunteers for the Alzheimer's Association events, enjoys horseback riding, and spending time with her husband and three children.
[/fusion_builder_column][/fusion_builder_row][/fusion_builder_container]